Telling your family that you're going to move can be stressful, and if you have young children, they may not understand why you need to move. Explaining to them the why and when can perhaps help them process the information, but one of the best ways to help them is to get them involved in the move. Organizing, packing, and preparing takes time, and with the entire family helping, things can go much smoother. At Billy Goat in Fort Collins, we want to make your move as enjoyable as possible, and in this blog, we'll look at a few ways you can get your family excited about relocating.
Have Everyone Make a Checklist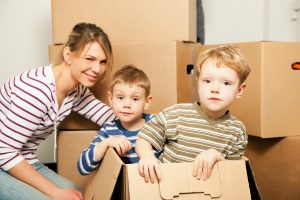 One of the best ways to keep everyone and everything organized is to make checklists. Have each family member write down the things such as what they need to pack or the things they want to take with them in the car, and keep track of what they accomplish each week. Your kids can take charge of packing up their toys (with your help if they're very young), as well as packing their overnight bag for the first few days in your new house.
Have Everyone Make a Fun List
Checklists can be great, but looking at a list of tasks each week can become monotonous. One way to break that monotony is to have each family member make a "fun" list. This can be anything from what they're looking forward to doing in the new house, what games they want to play in the car, and what they're going to miss about the old house. While this last one isn't quite as "fun" it can help everyone remember what they loved about where they lived and the memories they'll carry with them after the move.
Have Weekly Check-Ins
Depending on when you're planning to move, it can be a good idea to have weekly check-ins or family meetings to see where everyone is on their lists. If you haven't had as much time to pack up the garage, you could perhaps recruit someone to help you over the next week. If your teenage son or daughter hasn't been pitching in as much as they should, you can subtly nudge them to catch up so that they're ready for moving day.
Moving to a new house affects everyone in your family, and it's important for everyone to be prepared for the transition. Getting each person involved can help them take ownership over part of the move, and while you take care of switching utilities, your spouse or partner can handle changing your address. The kids can tackle packing up their rooms and closets, and each person can pick one thing they want to have with them for the ride to the new house.
When you need a moving company in Colorado, count on Billy Goat to provide the best service at an affordable price. We'd love to speak with you about how we can meet your family's needs.
Contact us today to learn more!